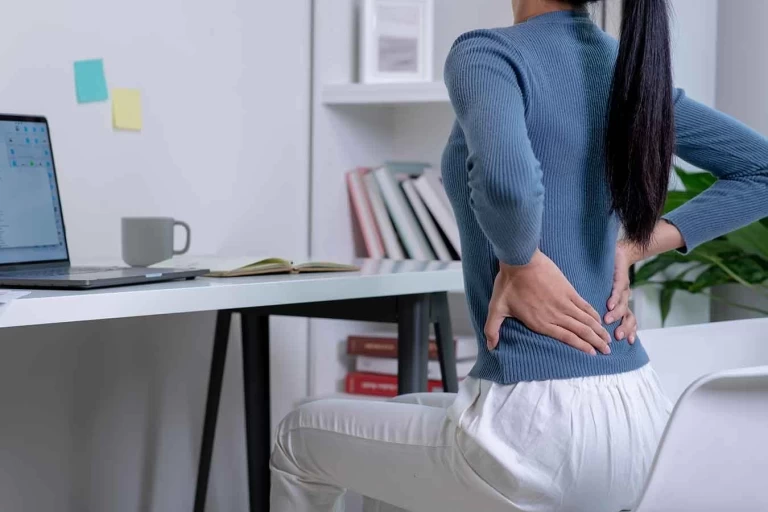 Sitting for too long is often associated with chronic back pain, but don't worry - this doesn't mean you have to give up your workspace or suffer in silence. With workflow background information and a few tips from experts, you can improve mobility and work more comfortably while avoiding strain on your body as much as possible. In this blog post, we will discuss the importance of ergonomics when developing a workspace at home, ways to adjust furniture and equipment properly, movements that help keep joints lubricated and muscles moving, preventative measures that make us less prone to injury so we can stay focused during our day-to-day tasks.
Causes of Back Pain from Prolonged Sitting
Back pain from prolonged sitting can be attributed to a number of factors, including poor joint mobility and muscle function, weakened abdominal muscles, incorrect posture, and even shallow breath. This type of discomfort is a reminder that we should take steps to ensure our bodies and minds stay healthy while working from home. Making time for regular breaks to stretch or even take a walk are some simple everyday changes that can help keep our posture correct and alleviate any unnecessary stress on the back. Other activities like stretching, strength training, or even yoga can all be effective in preventing back pain associated with sitting too long each day.
Tips for Preventing Back Pain While Working from Home
Working from home can be a great alternative to going to the office, but if you're not careful it can cause serious back pain. The best way to prevent this is by taking frequent breaks, stretching often, and utilizing ergonomic chairs and adjustable desks to make sure your body remains in proper alignment throughout the day. Additionally, exercise can help improve core strength, which will reduce the strain on your lower back. Furthermore, practicing good posture and staying mindful of how your body is positioned while sitting helps to keep your back healthy even when you're working long hours. Implementing these key tips while working from home will help ensure that you maintain a strong and healthy back so that you can enjoy all the benefits of working remotely!
Desk Setup and Ergonomics that Can Help Alleviate Back Pain
Having an ergonomically sound workspace is important for those who are working from home and suffer from chronic back pain. The right chair, desk setup, and even added accessories such as lumbar pillows and footrests can help alleviate existing discomfort while helping to prevent further back pain. Taking breaks throughout the day to move around, stretch your muscles, and promote blood flow can also be beneficial. In addition, proper posture is essential when sitting at a desk for too long; be sure to adjust your chair or monitor height so that you don't have to hunch over your work. With a few simple adjustments, anyone can reduce the amount of pain caused by long hours in front of the computer in their workspaces.
Stretches and Exercises to Make Your Spine Feel Better
Back pain can often occur with prolonged sitting, making it especially important to keep active while we're now working from home. There are several chiropractic techniques and stretches that can help with back pain, such as core strengthening exercises, dynamic stretching, and foam rolling. Doing things like Pilates or gentle yoga can help improve mobility in the spine while helping to increase overall strength, flexibility, and physical balance. Besides chiropractic care, there are many simple steps that individuals should do daily to maintain a healthy spine alignment and function. This includes increasing levels of hydration and continuing to move throughout the day by taking regular breaks for stretching; both of which can lead to improved posture and reduce unnecessary strain on your back.
The Benefits of Taking Regular Breaks From Sitting
With the increasing popularity of working from home, it has become more important than ever to be mindful of how long we are sitting during the workday. Taking regular breaks from sitting is essential to prevent back pain, as well as support joint mobility, muscle strength and function, and even our breathing. Taking frequent movement breaks throughout the day helps to improve circulation, boosts energy levels, and can help to reset our focus when we return to our work tasks. What's more, taking just a few minutes every few hours to move our bodies can make a huge difference in how we feel by the end of the day. Make sure you are giving your body what it needs: set an alarm or reminder for yourself every so often throughout your workday and get moving!
Making the Most of Your Workspace When Working From Home
Working from home poses unique challenges, but it is possible to make the most of your workspace. Setting up a comfortable and ergonomic environment can be the key to maintaining good posture and avoiding back pain developed from sitting too long. Improving joint mobility, muscle strength, and breathing techniques are also important components for proper health when working from home. Taking the proper steps and creating a workspace that helps you become healthier can prevent long-term health concerns that come with prolonged sedentary work.
Working from home poses its own difficulties, including the tendency to suffer from back pain due to sitting for too long. Understandably, having a desk set up that is comfortable and ergonomic can help employees stay active and healthy while continuing to do their jobs. Additionally, regularly taking breaks and engaging in specific stretches and exercises can make your spine feel better.
Finally, it's important to make the most of our workspace when working from home so we don't forget to move and make our work days flexible throughout the work day. All these strategies can help avoid lower back pain when working remotely, but if you're already feeling discomfort or tightness in your back, it may be time to seek professional support.
We invite you to embark on your journey toward health and wellness with us! Our practice is dedicated to providing the best quality care for all our patients. Make an appointment with us today to learn how we can help ease lower back pain!